Electric Ride-On Range Rover, Red, Double Leather Seat, LCD Display with USB Input, 4x4 Drive, 2x 12V7Ah Battery, EVA Wheels, Suspension Axles, Key start, 2.4 GHz Bluetooth Remote Control
Range Rover
The latest Range Rover model
New 2.4 GHz remote control - no interference, full vehicle control, emergency stop
Large soft EVA wheels and double leather seats
4 x 4 - All-wheel-drive
Suspended axles
LCD screen with video and music player
Door and bonnet opening
USB input
Delivery: 4 - 5 Working Days

Click on the picture to expand

You can return the goods within 14 days
We return the money within 1 day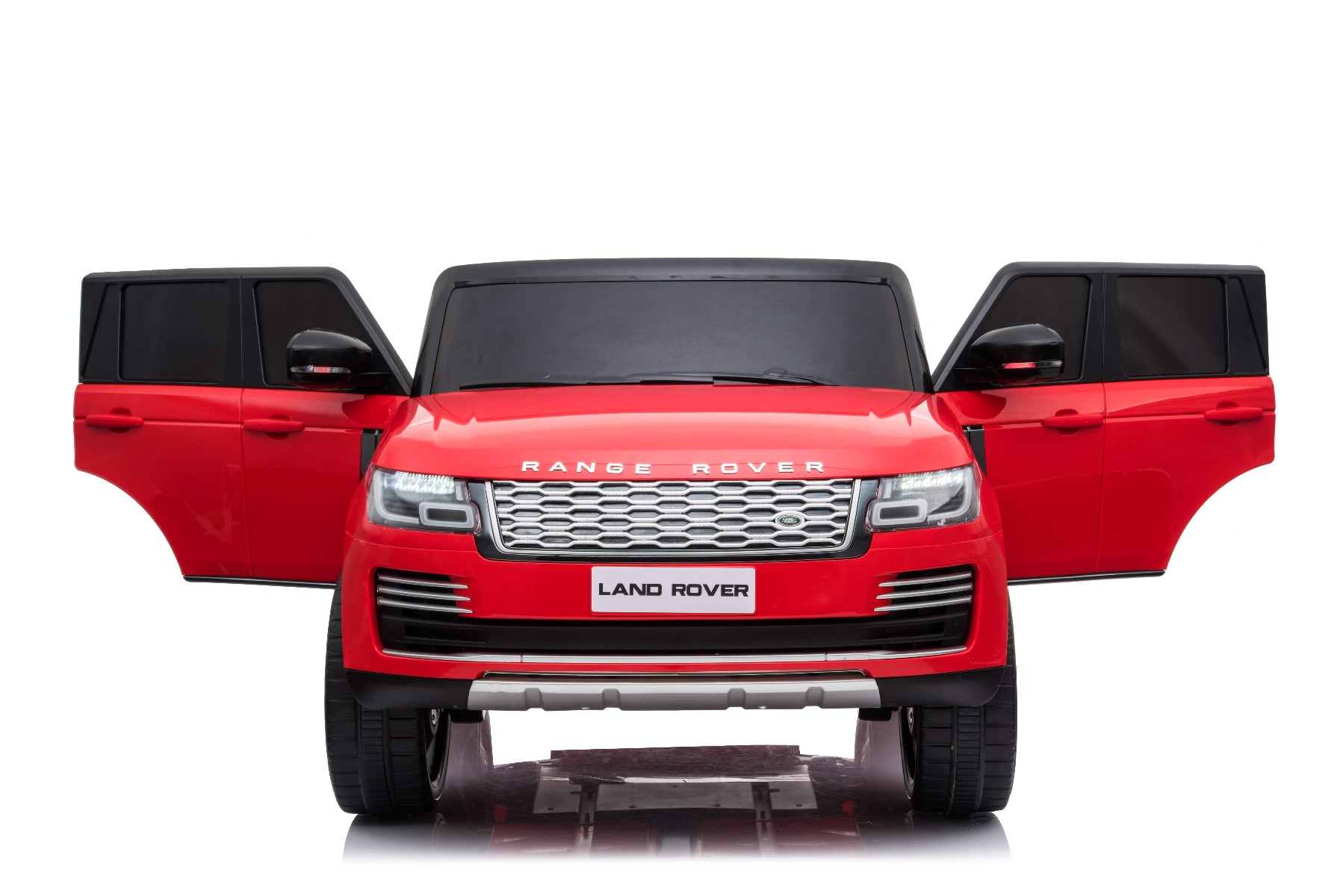 Range Rover electric car with 4X4 drive

Original version of the latest Range Rover model for your small driver - 4 x 35w engine with remote control, 2 x 12V / 7Ah battery, USB input for playing MP3 music and MP4 videos. This model is one of the few cars which have an integrated LCD display player and a three-position key starter where the lights can be turned on. Speed up to 7 km / h. Chrome accessories!
Give your children the pleasure of driving!
For the highest confort there is soft EVA foam wheels with spring-loaded axles which ensure smooth running without shaking.
Soft Start/Smooth acceleration - When the accelerator pedal is pressed, the car starts to run, and the acceleration is electronically controlled so that it is smooth thanks to the integrated acceleration.

After starting the model imitates the start sound, headlights and taillights lights up. Onboard instruments, sound effects such as horn, engine start, driving sound, songs, melodies, MP4 Player with USB input is all the time available for fun. - The volume of all sound effects is controlled by the MP4 player.
Soft EVA polymer wheels - provide you with a quiet ride and are resistant to cracks!
Remote Control - 2.4 GHz Bluetooth remote control paired to a specific car with superior car control and adjustable low, medium, high speed and emergency brake.
4X4 drive - Moovment of the car is provided by four 35W engines on all wheels, making the car suitable for harder terrain. The car is fully suspended on the front and rear axles.
Even for younger children - thanks to lower speed and smooth start!
The seat belt is adjustable on the seat for greater safety, and the wide opening of the door makes it easy to get in and out of the car.

Technical specifications:
Dimensions: 146 x 94 x 66 cm
Two leather seats
4X4 drive
Suitable for two children
Chromed exhausts, front mask and side design elements.
Smooth start-up engine - no tearing when adding gas
Soft EVA polymer wheels
2.4 GHz Bluetooth remote control with pairing on specific car
EMERGENCY BRAKE ON REMOTE CONTROL - switches off all driving functions of the car. Pressing the brake again reactivates the driving functions. This novelty provides maximum parent control and safe use.
Possibility to set the driving speed on the remote control - the innovated remote control allows the driving speed to be set by the parents while driving.
Set speed indicator on the remote control
Suspension axles
Functional lights
Seat belts
Opening doors
Opening hood
LCD display with USB input for playing MP4 and MP3 files
Weight: 31 kg.
Max. load: 35 kg.
Speed: 3 - 7 km / h.
Drive: 4 x Motor 12V 35W
Battery: 2 x 12V / 7Ah
Adapter: 220V to 12V / 1000mA.
Charging: from 8 to 12 hours
Durability: 1 to 2 hours, depending on weight and terrain
Age category: 3 to 8 years

PACKAGE CONTENTS:
children's electric toy car,
charger,
Rechargeable battery
remote control.
BATTERY LIFE:
(depending on terrain, weight and driving style)
More Information

| | |
| --- | --- |
| Weight | 31.0000 |
| Instruction manual | Yes |
| Dimensions - height (cm) | 66 |
| Dimensions - width (cm) | 94 |
| Dimensions - lenght (cm) | 146 |
| Box size - height (cm) | 43.5 |
| Box size - width (cm) | 80 |
| Box size - lenght (cm) | 149 |
| Seat width (cm) | 58 |
| Seat type | Leather |
| Number of seats | 2 |
| Wheel diameter (cm) | 28 |
| Wheel type | Soft Eva |
| Power (W) | 2x 35W |
| Voltmeter | Yes |
| Sounds and audio | MP4, MP3 Media player |
| Battery type | 2x 12V/7Ah |
| Max. load (kg) | 35 |
| Max. tested load (kg) | 45 |
| Remote control | 2.4 GHz Bluetooth remote control |
| Bodywork finish | Plastic |
| Suspensions | Yes |
| FM Radio | Yes |
| Opening doors | Yes |
| Smooth start | Yes |
| Headlights | Yes |
| Dashlights | Yes |
| Backlights | Yes |