Electric Ride-On Toy Car UTV XXL 24V, Red, two-seats in leather, Brake discs, powerful engine with a differential, LED lights, Inflatable rubber wheels with rear suspension, MP3 Player with USB/SD and Bluetooth, Adjustable Steering Wheel
Electric Ride-on Toy car UTV XXL 24V
HUGE ELECTRIC CAR! with 180 W engines
Opening doors, sound effects, battery status indicator
Battery: 24V14Ah
LED Lights
Max. load: 100 Kg

Car dimensions: 135 x 95 x 80 cm

Inflatable rubber wheels and brake discs
Rear wheel suspension
Adjustable steering wheel
3 forward and 1 reverse speed
Regular Price
€799.00
Special Price
€749.00
Delivery: 4 - 5 Working Days

Click on the picture to expand

You can return the goods within 14 days
We return the money within 1 day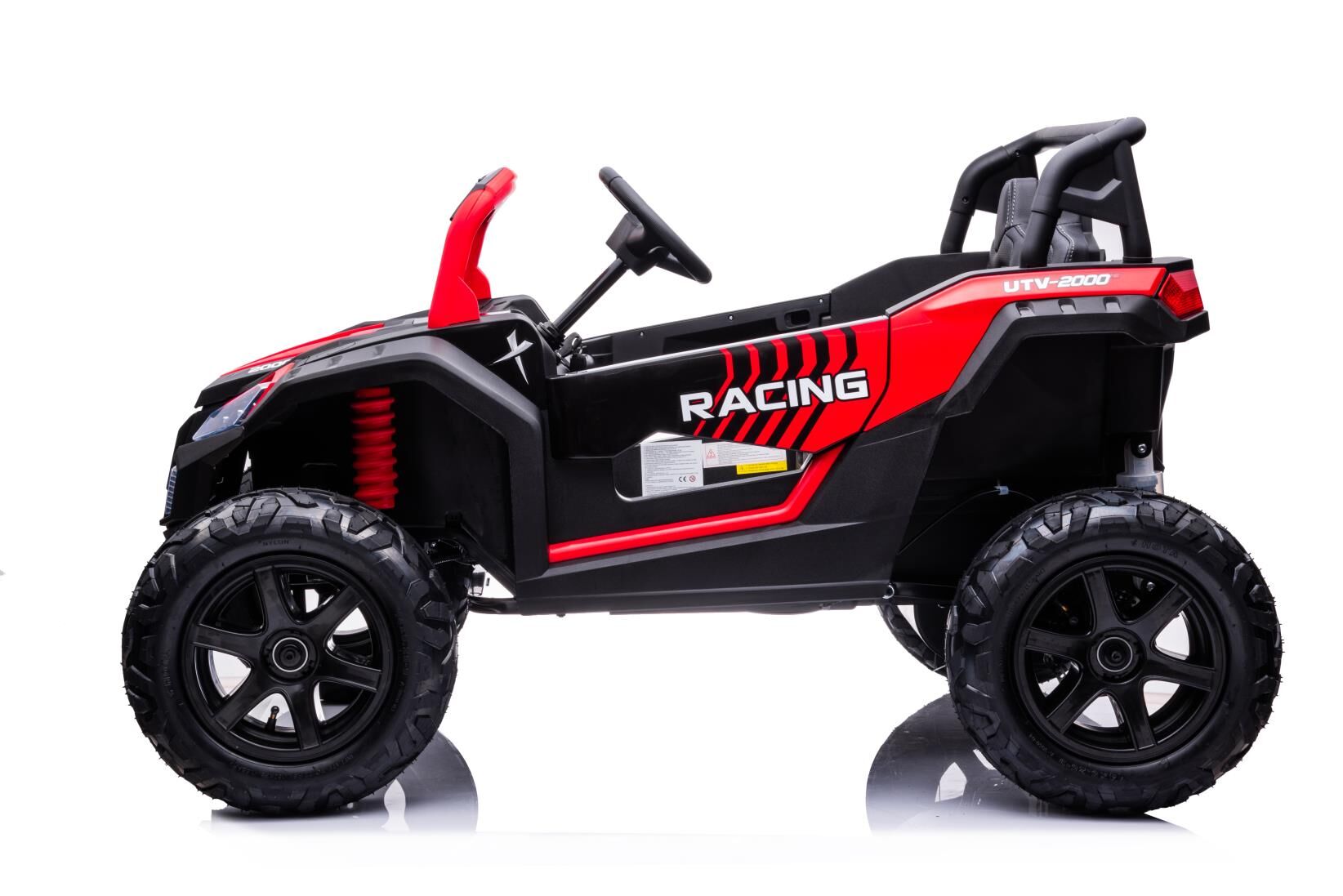 A HUGE ELECTRIC CAR - UTV XXL 24V
NEW: Adjustable steering wheel, inflatable rubber wheels, disc brakes
Load capacity up to 100 Kg,
Speed: 5-15 km / h
One of the largest cars on the market! - UTV XXL with a 24V battery and brake discs placed with powerful engine with a differential.
The UTV XXL ride-on car has a powerful look, opening doors, Rear storage space, quality materials and workmanship.
Two stitched big Leather seats, making it suitable for two children. Huge inflatable rubber wheels for comfort and durability. The toy car is also equipped with LED headlights, illuminated deck and backlights. 2 buttons fancy horn playing pop music, MP3 player with USB, SD card connection, Bluetooth, volume and sound effects control. For the safety of the child there is adjustable seat belt installed.
Suspension on rear wheels, powerful engine with a differential, 3 forward and 1 reverse speed, thanks to this is suitable for off-road driving.
Inflatable Rubber wheels - provide you with a quiet ride and are resistant to cracks!
Brake discs with separate pedal control
Adjustable Steering wheel
Speed 5-15 km/h

Soft Start/Smooth acceleration - When the accelerator pedal is pressed, the car starts to run, and the acceleration is electronically controlled so that it is smooth thanks to the integrated acceleration.
Special protected suspension system
Option for smaller children: slow speed setting and soft start!
This car does not require additional maintenance except charging and occasional cleaning.
By driving this fantastic car your child will be in the center of attention.
Technical Features:
Two leather seats
Product dimensions: 135 x 95 x 80cm
Packaging dimensions: 129 x 86 x 56cm
Suitable for two children
Inflatable rubber wheels
Rear wheel suspensions
Seat belts
Adjustable Steering Wheel
Brake discs
LED lights
Rear storage spaces
Opening doors
MP3 player with USB port and SD Card input
Bluetooth
Weight: 61 kg.
Max load: up to 100 Kg
Speed: 5-15 km/h.
Drive: powerful engine with a differential
Charger adaptor: 220V to 24V / 1000mA.
Battery: 24V14Ah
Charging time: 5-8 hours
The driving time: 1 to 1,5 hours, depending on the weight and the terrain
Age group: 3-12 years
More Information

| | |
| --- | --- |
| Age | 3+ |
| Weight | 61.0000 |
| Instruction manual | Yes |
| Dimensions - height (cm) | 80 |
| Dimensions - width (cm) | 95 |
| Dimensions - lenght (cm) | 135 |
| Box size - height (cm) | 56 |
| Box size - width (cm) | 86 |
| Box size - lenght (cm) | 129 |
| Seat type | Leather |
| Number of seats | 2 |
| Wheel type | Inflatable Rubber |
| Power (W) | 2 x 180 W |
| Voltmeter | Yes |
| Sounds and audio | MP3 Player with USB/SD Bluetooth |
| Battery type | 24V/7Ah |
| Max. load (kg) | 100 |
| Max. tested load (kg) | 110 |
| Bodywork finish | Plastic |