Electric Ride-On Volvo XC90, Black, Double Leather Seat, MP3 player with Bluetooth and USB Input, Opening doors and hood, 12V10Ah Battery, EVA Wheels, Suspension Axles, 2.4 GHz Remote Control, Licensed
Volvo XC90
Dimensions: 129 x 49,5 x 76 cm
Two seats with Volvo logo
Smooth start
All wheel suspension
2.4 GHz remote control with pairing on a specific car
MP3 Player with bluetooth
Regular Price
€359.00
Special Price
€309.00
Delivery: 4 - 5 Working Days

Click on the picture to expand

You can return the goods within 14 days
We return the money within 1 day
LICENSED RIDE-ON CAR VOLVO XC90 T6, WITH 2.4GHZ REMOTE CONTROL, Smooth Start,Opening Doors and Hood !!!!
The Volvo XC90 has a modern look, opening doors, opening hood, original details and logo, quality materials and workmanship. It has two seats, making it suitable for two children. The car is also equipped with lights and lighting dashboard. Innovative mp3 player with modern music and songs, connection for MP3, USB, SD card and effective volume control. For the safety of the child, there is an adjustable seat belt on the seat and safety lock on the doors.
Openable doors, sound effects, battery level indicator, 2 x engine, both rear-wheel drive, 3 forward and 1 reverse, makes it suitable for off-road driving.
Possibility even for smaller children - thanks to settings of lower speed and soft start !!!
Soft Start/Smooth acceleration - When the accelerator pedal is pressed, the car starts to run, and the acceleration is electronically controlled so that it is smooth thanks to the integrated acceleration.

Soft EVA polymer wheels - provide you with a quiet ride and are resistant to cracks!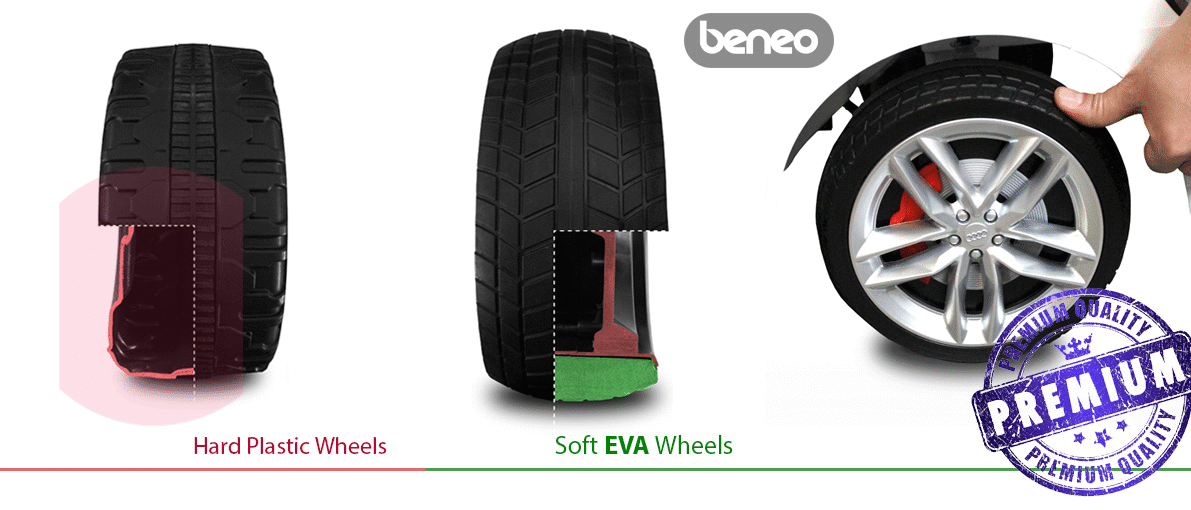 Remote Control - 2.4 GHz Bluetooth remote control paired to a specific car with superior car control and adjustable low, medium, high speed and emergency brake.
Strong LED headlights "Thor" like the real Volvo XC90.
By driving in this fantastic branded car, your child will be the center of attention everywhere.
Package includes Adapter with indicator which does not overcharge the battery + rechargeable battery and Remote controller
Techical specification:
Dimensions: 129 cm x 49,5 cm x 76 cm
Unique features: Play music in your car via Bluetooth - Do you have your child's favorite songs on your phone or tablet? Just switch your car to bluetooth mode, simply pair your phone or tablet to the car and you can play the music through your phone / tablet. The car will serve as a wireless Bluetooth speaker.
Two seats with Volvo logo
Suitable for two children
Soft start - no tearing when adding gas
2.4 GHz remote control with pairing on a specific car - no more signal interference by other cars
EMERGENCY BRAKE ON REMOTE CONTROL - switches off all driving functions of the car. Pressing the brake again reactivates the driving functions. This novelty provides maximum parent control and safe usage.
Possibility to set the driving speed on the remote control - the innovated remote control allows the driving speed to be set by the parents while driving.
Set speed indicator on the remote control
Key start
Suspension axles
Seat belts
Opening doors
Opening hood
Wood imitation in the interior
USB and SD card input for playing music in the car
Weight: 28.0 kg.
Load capacity: up to 35 kg, load capacity: 55 kg
Speed: 3 - 7 km / h.
Drive: 2xEngine 12V 45W
Adapter: from 220V to 12V / 1000mA.
Charging: from 5 to 8 hours
Usage: 1,5 to 2,5 hours, depending on weight and terrain
Age category: 3 to 8 years
More Information

| | |
| --- | --- |
| Weight | 32.0000 |
| Instruction manual | Yes |
| Dimensions - height (cm) | 50 |
| Dimensions - width (cm) | 76 |
| Dimensions - lenght (cm) | 129 |
| Seat type | Leather |
| Number of seats | 2 |
| Wheel type | Soft Eva |
| Power (W) | 2x 45W |
| Voltmeter | Yes |
| Sounds and audio | MP3 player with USB, and Blueatooth |
| Battery type | 12V/10Ah |
| Max. load (kg) | 35 |
| Max. tested load (kg) | 45 |
| Remote control | 2.4 GHz remote control |
| Bodywork finish | plastic |
| Suspensions | Yes |
| Opening doors | Yes |
| Smooth start | Yes |
| Headlights | Yes |
| Dashlights | Yes |
| Backlights | Yes |