Trampoline Beneo 305 cm + protective net
What do you get with the trampoline?
1 X Trampoline
1 x Trampoline Safety Pad
Assembly instructions with safety Manual (It is really easy to assemble)
Enclosure Net
Installation Kit (Spring Pull Tool (T-Hook) are included.
SKU
BENEO_TRAMPOLINES_10FT
Delivery: 4 - 5 Working Days

Click on the picture to expand

You can return the goods within 14 days
We return the money within 1 day
The new Beneo trampoline model series are manufactured to amuse and excite your kids for some fun. These trampolines are designed to fit in your garden or yard making fun time equal to trampoline time for children!
Because we are extremely concerned about our little customers, we prioritize safety and quality which is why all of our Beneo trampolines are EN-71 certified. Our trampolines are manufactured after thorough research about the problems faced by the customers and we have considered every bit of it to make a product of supreme quality. Beneo trampolines undergo heavy testing before they are delivered to you. We guarantee you safety and smiles for a long time to come.
Why are Beneo trampolines better than other trampolines?


Technical parameters
Trampoline diameter: 305 cm

Number of legs: 4

Number of springs:64

Spring length: 135 mm

Maximum load: 150 Kg

Package: 2 Boxes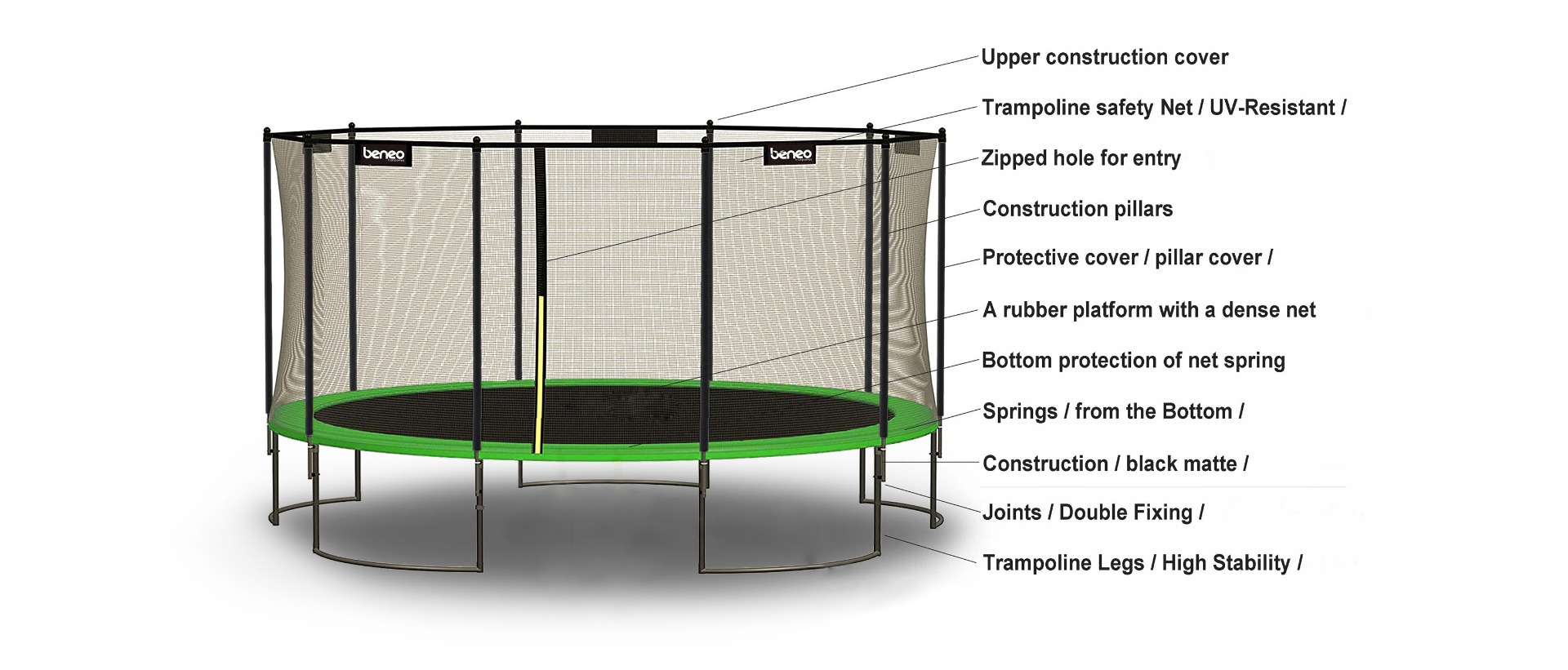 Protective Net with UV resistance and Water Repellance
The protective net in our trampolines is thicker which ensures perfect protection without abrasions. The safety net is made up of tiny holes making it impossible for children to insert their fingers in the net. This eliminates the chances of even the minimum injuries in their fingers.
Smooth Heavy Duty Surface Mat
The bounce of the new Beneo trampolines is now even safer and higher with heavy duty mat and frame pad. The surface mat is made of- polypropylene material (PP Mesh) which is water-repellent and UV resistant. The finishing of the surface is non abrasive and smooth enough and avoids the scratching or roughening of skin when it comes in contact with the surface mat.
Higher and Safer Bounce
The long springs and the strong mat is what makes our trampoline different and more jumpable.
These springs are made of galvanized steel to make these trampolines last for a lifetime. As they are corrosion free, the jump will be smoother and higher. The heavy duty mat and the corrosion free springs will ensure safety as well as cheerfulness in your children throughout.
Sturdy Build of Galvanized Steel
The build of the Beneo trampolines is sturdy, because the steel used for frames is fully galvanized and corrosion proof. The legs of a trampoline are powdered coated which avoids it to corrode and makes it withstand any weather. The rigid steel used ensures durability and stability of the trampoline. Besides, the frame is around the protective net is protected by a coarse foam layer for more safety.
Balanced Weight Distribution
The legs of this trampoline are extremely unique. They are c shaped curvy legs which improves tbility of the trampoline and ensures even distribution of the weight. This enhances the power of bounce on every part of the trampoline. So no matter how your children wiggle waggle, the trampoline is firm enough to stand still.
More Information

| | |
| --- | --- |
| Instruction manual | Yes |
| Dimensions - height (cm) | 246 |
| Dimensions - width (cm) | 305 |
| Dimensions - lenght (cm) | 305 |