BioPool 5 chlorine-free liquid for pool water treatment
Chlorine-free product used for complete water treatment of swimming pools and spas for professional purposes.

Aglicidal, flocculant, pH stabilizer, and anti-calc effect.

Flocculant: excellent flocculation effects in eliminating suspended parts.

It does not change the pH value of the water.

High solubility and immediate action.

Suitable for maintaining hygiene in wardrobes, locker rooms, toilets, saunas, pool edges, etc.

Oxidize.

Does not create foam.

Effective against limescale.

It does not lose its effectiveness when the pH of the water is disturbed.

Recommended dosage for BeneoSpa whirlpool: 6 ml / week
Delivery: 4 - 5 Working Days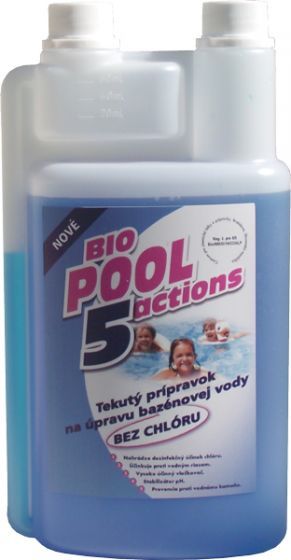 Click on the picture to expand

You can return the goods within 14 days
We return the money within 1 day
12 Reasons to Use BioPool 5 Actions:
Avoid eye irritation

Due to the lasting effect of BIO POOL 5 ACTIONS, no thorough control is required as in the case of chlorine products (you can use one dose per week)

Unlike oxidizing products (eg sodium hypochloride, hydrogen peroxide, chlorine isocyanate, etc.) it does not discolour textiles.

It does not destroy textiles such as wool, nylon, etc.

It does not lose its effectiveness even in water with an unbalanced pH value.

It is compatible with chlorine products and hydrogen peroxide, so if you want, you can alternate it with traditional chlorination.

Avoid handling the product packaging as it contains an automatic dispenser.

You will avoid the intense smell of pool water (Chloramine, etc.)

It is a more environmentally friendly product in terms of chemical reaction and packaging, which is five times smaller than traditional products.

It is extremely effective against bacteria, algae, small molluscs and microorganisms common in swimming pools.

Avoid the corrosive effects of hypochlorite and other chlorine-containing products. (Avoid bleaching colored hair, etc.)

Minimal storage and huge transport benefits: 1 liter of BIO POOL 5 ACTIONS corresponds to 5 liters of traditional product.
Method of use and dosage:
It is recommended to apply the product after dark, after bathing.

After switching on the cleaning device, add the product close to the nozzles in order to disperse it throughout the pool.

The bath is possible even after the impact treatment.
WARDROBES AND SAUNAS
Use a solution of 2 to 4 ml of production per 10 liters of water.
IMPACT TREATMENT
Add 20 to 40 ml per 1m 3 of water

Normal condition: 20ml / m 3 of water.

Serious condition: 40ml / m

3 of

water.
MAINTENANCE TREATMENT
Add 2 to 4 ml per 1m

3 of

water once a week.

Normal condition: 2ml / m

3 of

water every 7 days.

Serious condition: 4ml / m

3 of

water every 7 days.

In case of heavy rain or tall calves or during heavy bathers, double the dose every 15 days.
QUALITY GUARANTEE
Branded pool chemistry BIO POOL 5 Actions is manufactured under strict quality controls, meets all strict criteria of quality, consumer health and environmental protection. The bactericidal and algicidal effect of the product was tested and confirmed by the laboratory of the Ecotoxicological Center Bratislava. BIO POOL 5 Actions obtained a marketing authorization issued by the Ministry of Economy of the Slovak Republic - Center for Chemical Substances and Preparations of the Slovak Republic, reg. number: BIO / 985 / D / 16 / CCHLP
Use biocides safely. Always read the label and product information before use.
Note: Technical specifications are subject to change without notice. The images are for reference only.