Chocolate Fountain CF ProEdition - Commercial Grade, All Stainless Steel, 510 mm Tower Height
Chocolate Fountain Machine  CF510 - 5 Levels - 3kg
Delivery: 4 - 5 Working Days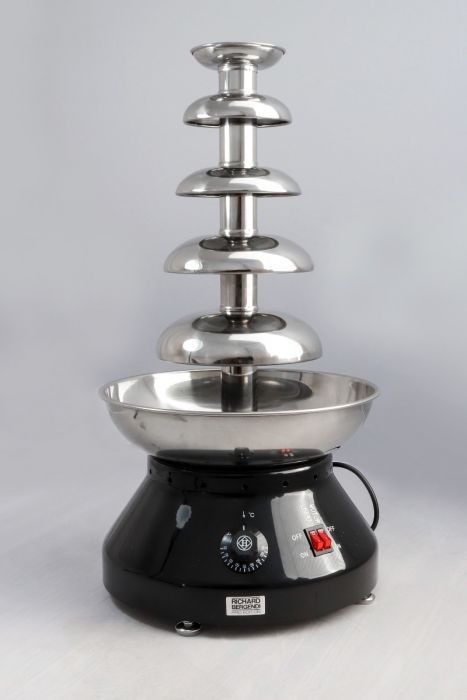 Click on the picture to expand

You can return the goods within 14 days
We return the money within 1 day
Chocolate Fountain Machine  CF510
Our CF Pro Series chocolate fondue fountains are designed for professional (commercial) usage in catering, hotels, restaurants, cafes, etc. The fountain is manufactured from 304-grade satin stainless steel which provides long life, durability and healthiness. The upper part can be washed in the dishwasher. Melt the chocolate in the base of a fountain - no microwave needed. Direct drive motor (no more belts). Food Grade Solid Stainless Steel Construction. Full CE approval.
Highlights

Five stainless steel levels for a beautiful chocolate flow
Large capacity of 3 litres of chocolate
Screw design - for a splash-free flow without clogging
Efficient 210 W heating element for reaching the desired operating temperature
Safe operation with an overheat protection
Heavy duty 10-12 h duty cycle
5 Levels - 3 kg
A special treat for your guests, with the chocolate fountain machine CF-510 by RB PRO! In restaurants, hotels or at large events, such as weddings, birthdays, banquets and other celebrations, this eye-catcher delights every guest. The chocolate fountain is a fondue device, which optionally heats and melts chocolate so that it flows over the fountain levels like a waterfall. In addition to the chocolate, you can also use nacho cheese, caramel, syrup, sauces or other creams, so that depending on your preferences, various products, including fruit, biscuits, waffles, ice cream or savoury nachos and fries can be held underneath the fountain flow.
Effectively stage every event with the chocolate fountain
With its high capacity, the chocolate fountain CF-510 can process up to 3 litres (about 3 kg) of chocolate simultaneously. You can also use ingredients such as chocolate, caramel, gravy, syrup, melted cheese, ketchup, etc. The screw design ensures a splash-free flow over all five levels during preparation and prevents clogging. The model is easily accessible from all sides, has an elegant design and ensures that many guests can enjoy it at the same time.
The powerful 220 watts heating element ensures rapid heating and long-term warm keeping of the ingredients. It can be adjusted with the rotary control in the range between 0 and 110 °C. The thermostat automatically regulates the maintenance of the melt flow. The heavy-duty construction assures the device can work effortlessly for many hours, the duty cycle being 10-12 working hours.
The integrated overheating protection ensures safety during the operation of the device and switches off the chocolate fountain when the temperature becomes too high. The cooling of the engine in the base has special ventilation openings. This version has two buttons for starting the engine and the heating element separately.
The stainless steel of the well and the powder-coated steel for the base ensure easy cleaning. The open design makes maintenance even easier. The well can be easily disassembled so that each part can be rinsed off separately. Adherence to hygiene regulations and taste neutrality are ensured due to the stainless steel. The material is very resistant and insensitive to mechanical damage.
The CF510 chocolate fountain has non-slip feet, which do not scratch the surface and maintain stability. Complement your catering supplies with this quiet, low-noise chocolate fountain that will be the highlight during your events. The low weight facilitates transport to any event, as well as the storage.
Technical Details:
Model: CF-510
Condition: New
Material: Stainless steel, Powder-coated steel
Voltage: 230V
Total power: 210 W
Power, heating element: 210 W
Total capacity: 3 l (~ 3 kg)
Temperature range: 0-110°C
Duty Cycle: 10-12 h
Levels: 5
Protection against overheating: Yes
Noise level: 40 dB
Length, power cable: 160 cm
Dimensions (LxWxH): 35 x 32.5 x 61 cm
Weight: 6.3 kg
BOX dimensions (LxWxH): 52 x 36.5 x 52 cm
Shipping weight: 7.8 kg
More Information

| | |
| --- | --- |
| Weight | 6.0000 |
| Dimensions - height (cm) | 61 |
| Dimensions - width (cm) | 35 |
| Dimensions - lenght (cm) | 33 |
| Box size - height (cm) | 52 |
| Box size - width (cm) | 36 |
| Box size - lenght (cm) | 52 |
| Capacity (kg) | 3 |
| Wattage (W) | 210 |
| Voltage (V) | 110 |
| Usage | 12 |
| Heating type | 210 W |
Note: Technical specifications are subject to change without notice. The images are for reference only.