Electric Ride on Car Audi R8 Spyder NEW type, Black, Original Licenced, Battery Powered, Opening Doors, Plastic Seat, 2x 25W Engine, 12V Battery, 2.4 Ghz remote control, Smooth start, MP3 Player
Audi R8 Spyder NEW TYPE
Power 12V - 2 x 25W motors on the rear wheels. 
Run forward / reverse. Smooth start - no yanking. 
2.4Ghz remote control.
LED lights
Smooth/Soft start
Charge time min. 4 hours, Max. Speed 6 km / h, Max. Load: 30 kg
Battery 12V - 4,5 AH. Opening doors. Speed select only on remote control
Regular Price
€211.00
Special Price
€162.00
SKU
AUDI_R8_SPYDER_NEW_BLACK
Delivery: 4 - 5 Working Days
Click on the picture to expand

You can return the goods within 14 days
We return the money within 1 day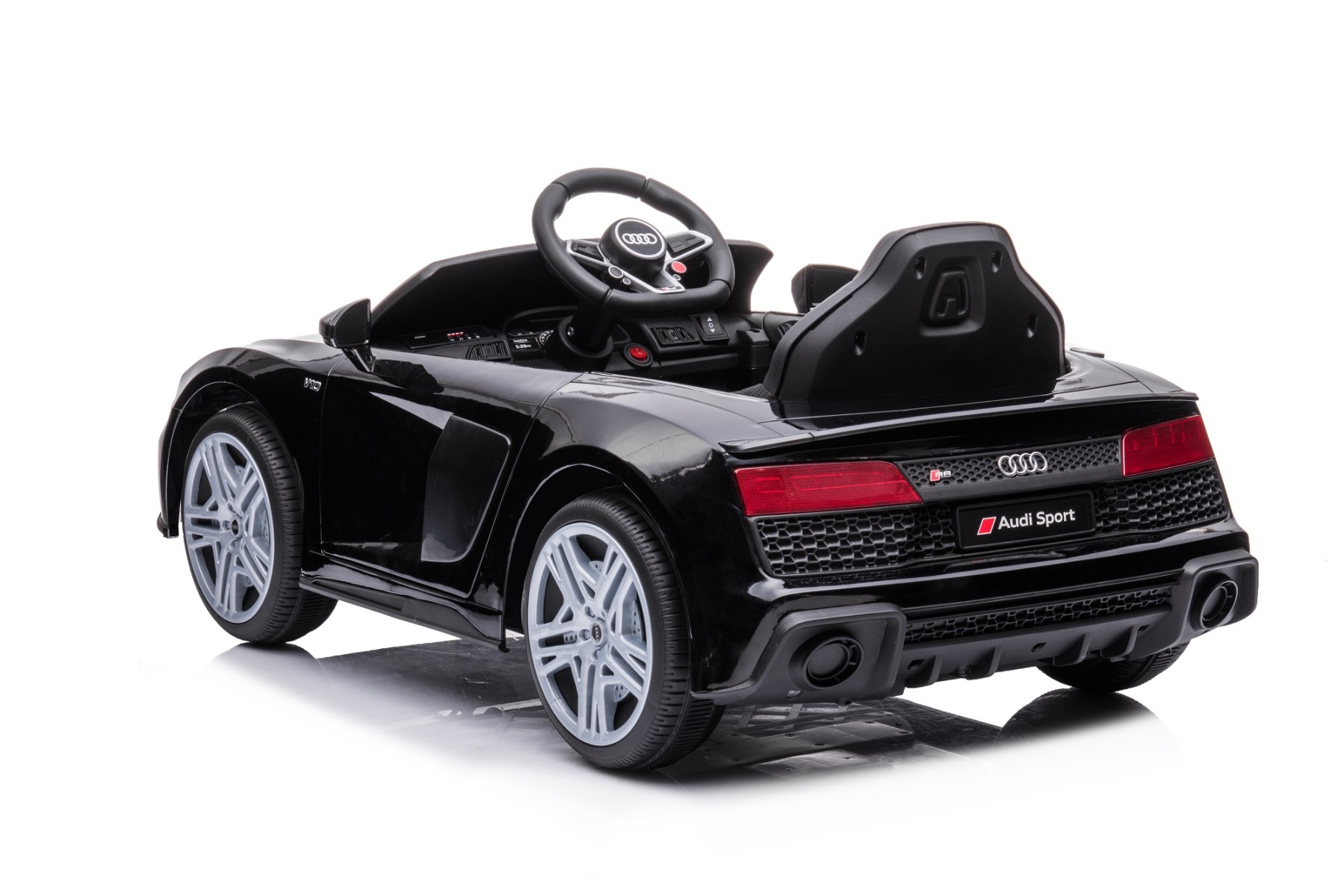 NEW MODEL! AUDI R8 SPYDER LICENSED CAR NEW TYPE WITH 2.4 GHz REMOTE CONTROL AND OPENING DOORS
The Audi R8 Spyder has a realistic look, original features, elaborated details and a logo on the hood, steering wheel, quality materials and workmanship, and a wide plastic seat. The car is also equipped with LED lights. 2 buttons for effective horn, modern music and songs, connection for MP3, SD card, USB. Digital battery capacity indicator, for child safety there is an adjustable seat belt on the seat.
Sound effects, battery status indicator, 2 x 25W Engine, with both rear-wheel drive, 3 speeds forward and 1 reverse.

Soft Start / Smooth Acceleration - When the accelerator pedal is pressed, the car starts to accelerate electronically smoothly to provide smooth acceleration thanks to the integrated accelerator.
Possibility of use for smaller children - thanks to the setting of a lower speed !!!
It requires no maintenance other than recharging and washing.
This exclusive toy car will bring pleasure for the child and the parents as well!
The package contains an Adapter with an indicator, it does not overcharge the battery + rechargeable battery.
Technical Specification:
Ability to switch between driving speed. Ability to control the music volume.
Package includes Adapter with indicator + rechargeable battery. 
Power 12V - 2 x 25W motors on the rear wheels . Run forward / reverse.
Great feature: Smooth start: -No more jerky start; this car starts and speeds up smoothy!
Max. speed - 6 km / h, 
Max. load: 30 kg
Speed select only on remote control
Plastic Wheels
LED lights
SD card input
USB input
2.4 Ghz remote control with emergency brake button and speed selector - provides full parental control
Plastic seat
Opening doors
Seat for 1 user only
Accelerator pedal - and brake at the same time when released
Battery 12V - 4,5AH
Car weight 14 kg
More Information

| | |
| --- | --- |
| Age | 3+ |
| Weight | 14.0000 |
| Instruction manual | Yes |
| Dimensions - height (cm) | 48 |
| Dimensions - width (cm) | 58 |
| Dimensions - lenght (cm) | 107 |
| Box size - height (cm) | 26 |
| Box size - width (cm) | 55 |
| Box size - lenght (cm) | 108 |
| Seat type | Plastic |
| Number of seats | 1 |
| Wheel type | Plastic |
| Power (W) | 2 X 25W |
| Voltmeter | Yes |
| Sounds and audio | MP3 |
| Battery type | 12V/4.5Ah |
| Max. load (kg) | 30 |
| Max. tested load (kg) | 35 |
| Remote control | 2,4 Ghz |
| Bodywork finish | Plastic |
| Opening doors | Yes |
| Smooth start | Yes |
| Headlights | Yes |