Electric Ride-on car Chevrolet Camaro, White, Original Licensed, 12V Battery Powered, Opening Doors, Artificial Leather Seat, 2x 35W Engine, LED Lights, 2.4 Ghz remote control, Soft EVA wheels, Smooth start
Chevrolet Camaro 
Artificial leather seat
2.4 GHz remote control with pairing on a specific car
Opening doors
LED lights
Soft start
Dimensions: 117 x 70.5 x 47.5 cm
Soft EVA polymer wheels
AUX, USB and SD input
Regular Price
€363.00
Special Price
€279.00
SKU
CHEVROLET_CAMARO_WHITE
Delivery: 4 - 5 Working Days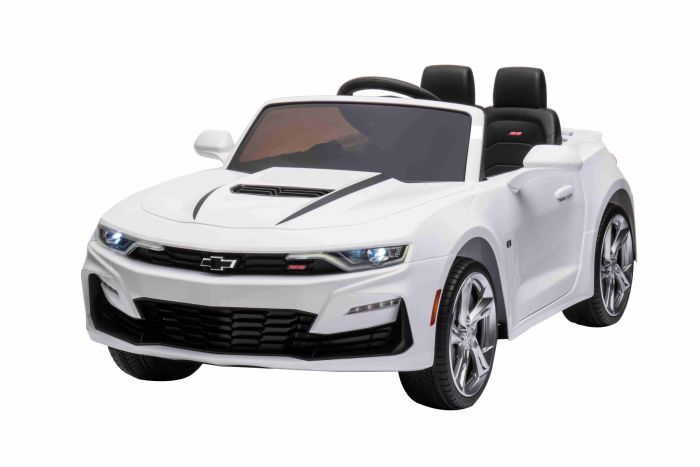 Click on the picture to expand

You can return the goods within 14 days
We return the money within 1 day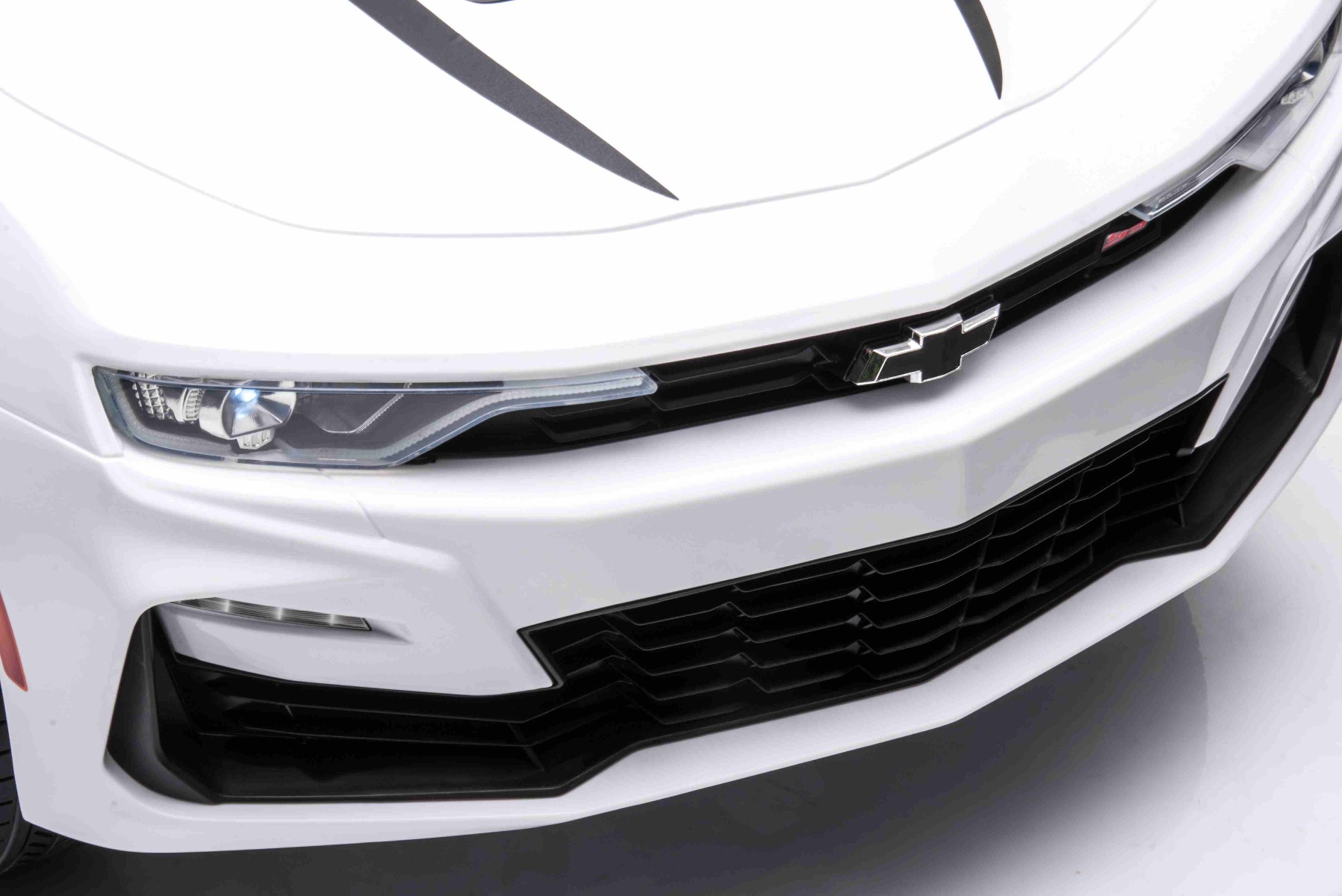 Luxury electric Ride-on sports car Chevrolet Camaro 12V

The Chevrolet Camaro represents a bold statement on the future of sports cars – and of luxury mobility. Now, this exclusive model is available for your child!
This Chevrolet is a unique electric car for children. It's a licensed child version of a fantastic car called Camaro. This nice ride-on car is designed for rough and smooth surfaces as well. The car has astonishing details and realistic strong front and backlights.
A perfect huge electric sport car with a futuristic look. When the switch is turned on, the model imitates the start sound, the front LED lights up, the instrument panel backlight as well, sound effects like horn, engine start, driving sound, songs, melodies, SD, USB input are always available for fun. All sound effects can be controlled by an MP3 player.

Soft start/smooth acceleration - When the accelerator pedal is pressed, the car starts to accelerate electronically smoothly to provide smooth acceleration thanks to the integrated accelerator.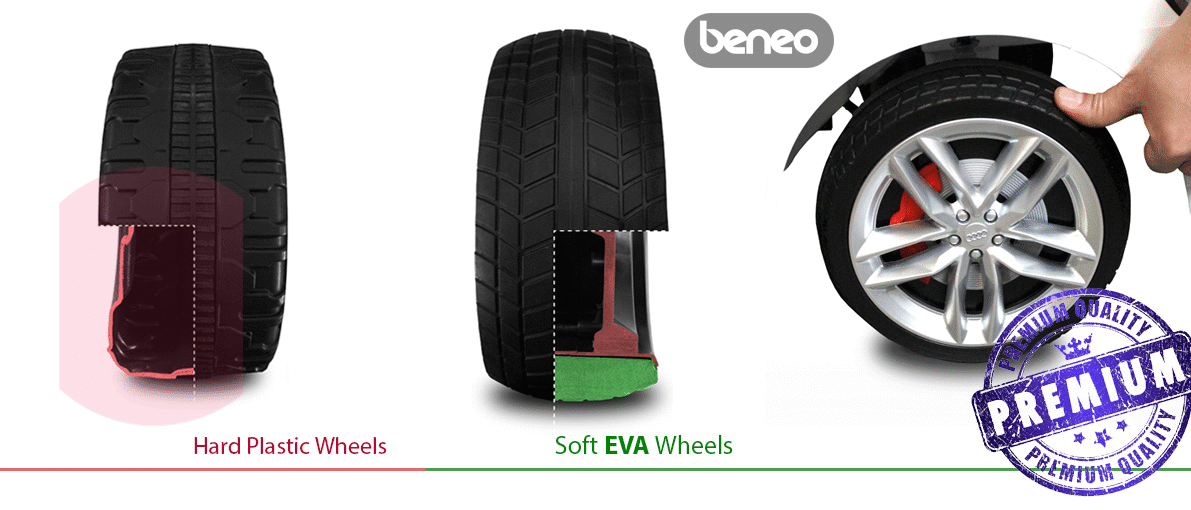 Soft EVA wheels ensure comfortable driving even on hard surfaces without shaking the car.

The new 2.4Ghz remote control ensures full control over the car for the parent as it can override the children's actions. It has an extended range. This remote control has a unique pairing key with the car so no other remotes will disturb your ride. The remote control has a built-in speed setting.

The seat belt is adjustable on the seat for greater safety, and the wide opening of the doors makes it easy to get in and out of the car.
Ability to switch between 2 driving speeds forward, 1 backward. Ability to control the music volume. 
The package includes an adapter with indicator + rechargeable battery and remote controller.
Features

Eva Wheels

Leather seats

LED lights

MP3 player

USB port

SD card

Opening hood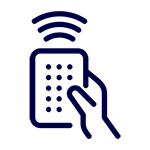 Remote control

Steering wheel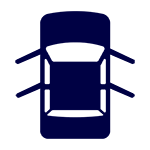 Opening doors

Seat belts
Technical Specifications/Products Dimensions
Great feature: Smooth start
Power 12V - 2x 35W motors on the rear wheels.
No more jerky start; this car starts and speeds up silky smooth!
The smooth start function - the engine gets to speed gradually instead of sudden yanking
Max. speed - 6 km/h, Max. tested load: 35 kg
The front and backlights
USB/SD/AUX port for music
Soft EVA wheels for a silent ride - EVA foam wheels are durable, UV, and water-resistant
2.4 GHz remote control - provides a full parental control
Leather seat
Opening doors
Wide seat for 1 child
2 engines - 2 rear-wheel drive
Soft-start function
Accelerator pedal - and brake at the same time when released
Battery 12V /7 AH
Car weight 21 kg
Car dimensions: 117 x 70.5 x 47.5CM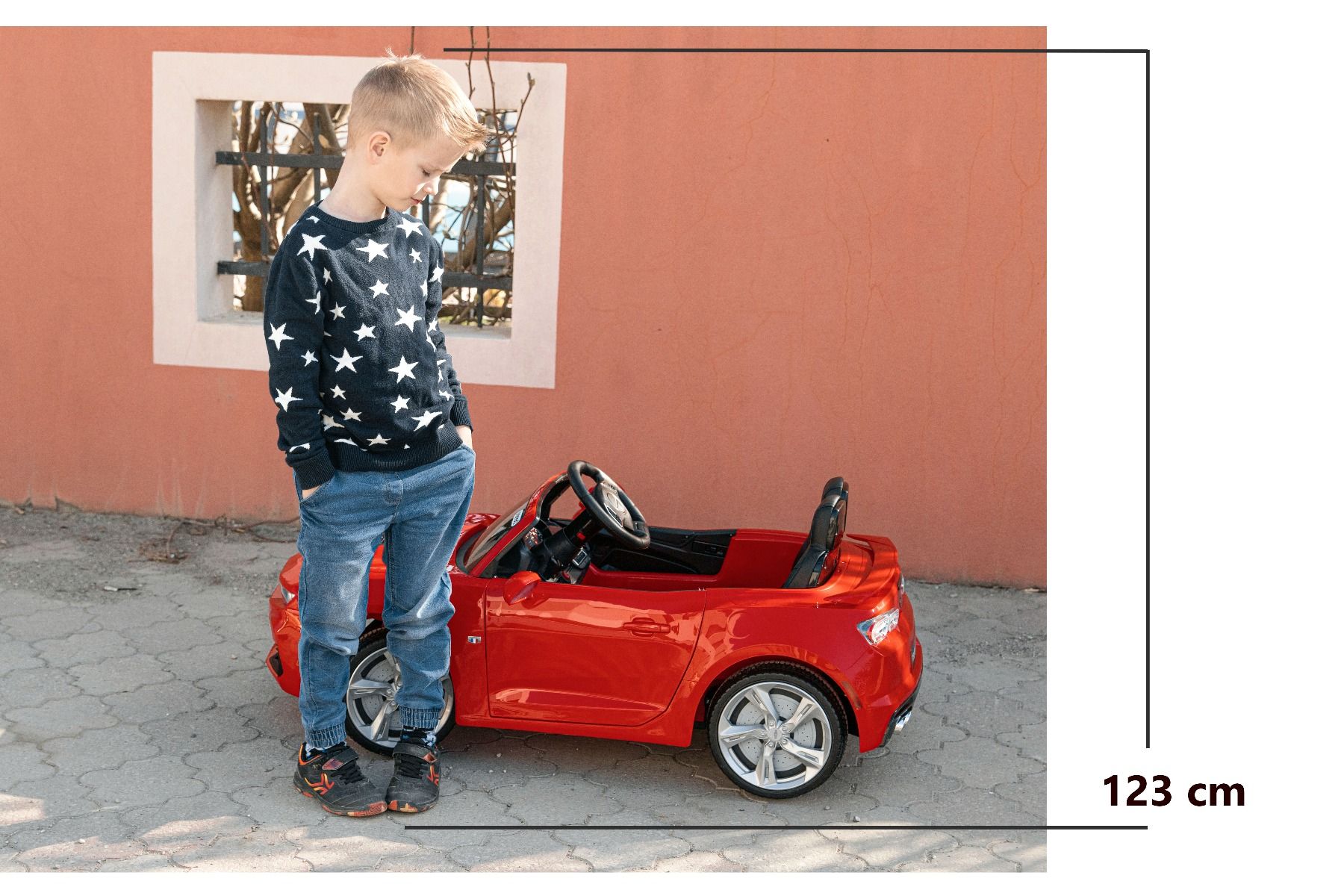 More Information

| | |
| --- | --- |
| Age | 3+ |
| Weight | 21.0000 |
| Instruction manual | Yes |
| Dimensions - height (cm) | 47.5 |
| Dimensions - width (cm) | 70.5 |
| Dimensions - lenght (cm) | 117 |
| Box size - height (cm) | 36 |
| Box size - width (cm) | 60 |
| Box size - lenght (cm) | 123 |
| Seat type | Artificial leather |
| Number of seats | 1 |
| Wheel type | Soft EVA |
| Power (W) | 2x 35W |
| Voltmeter | Yes |
| Sounds and audio | MP3 With USB/SD/AUX |
| Battery type | 12V/7Ah |
| Max. load (kg) | 25 |
| Max. tested load (kg) | 30 |
| Remote control | 2.4 Ghz |
| Bodywork finish | Plastic |
| Opening doors | Yes |
| Smooth start | Yes |
| Headlights | Yes |
| Dashlights | Yes |
| Backlights | Yes |
Note: Technical specifications are subject to change without notice. The images are for reference only.