PREMIUM Chocolate fountain
PREMIUM Chocolate fountain

Power 65 W
Total capacity 1.5 kg
Container volume 2 kg
Stairs 3
Material Stainless steel
Case material Plastic
Dimensions (LxWxH) 22.80 x 22.80 x 54.00 cm
Weight 2.00 kg
SKU
PREMIUM_CHOCOLATE_FOUNTAIN
Delivery: 4 - 5 Working Days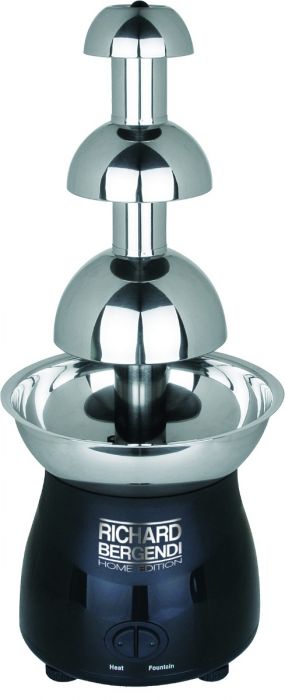 Click on the picture to expand

You can return the goods within 14 days
We return the money within 1 day
PREMIUM Chocolate fountain
Chocolate fountain - 3 stairs - 2 kg PREMIUM is used to produce hot liquid chocolate or other liquid foods with a smooth consistency (Chocolate, melted cheese, caramel, sauces, syrups or ketchup). You can dip various fruits into them, among others according to your preferences, fruits, biscuits, pancakes, and waffles. Professional equipment from Beneo will prove to be a valuable piece of equipment for households, catering companies, restaurants or hotels, especially when organizing weddings, birthdays, banquets and other celebrations.
The elegant PREMIUM model made of stainless steel will become the highlight of every event!
An efficient heater with an output of 80 W melts and quickly heats the chocolate to the right temperature. The automatic thermostat, which maintains a constant temperature, is responsible for obtaining a liquid consistency. Durable construction guarantees a long service life and an optimal work cycle of 1-4 hours.
The optimal capacity of the PREMIUM Chocolate Fountain is 1.5 kg, which means that the fountain can simultaneously produce up to 1.5 kg of liquid (chocolate, caramel, sauce, syrup, processed cheese, etc.). The screw pump pumps the liquid into the free flow without the risk of clogging.
Minimally porous stainless steel makes it easy to clean. In addition, this material is non-corrosive and it is resistant to scratches and mechanical damage. The base is made of powder steel. The device can be easily disassembled so that each part can be washed separately (bowl, spiral, tower).
Comfortable work with the PREMIUM device is guaranteed by anti-slip feet, which do not scratch the surface and allow you to maintain stability. The quiet operation of the PREMIUM fountain ensures that it does not disrupt the course of the event. The compact device fits on any work surface and the low weight (approximately 2 kg) transport and storage facilities. The perfect design is responsible for nonlimited access to chocolate from all sides.
The safety protection system shuts off the device when it is too hot or overloaded. It is supported by special engine cooling vents located in the base. The device has two buttons which are used to start the engine and heater separately.

Power - 80W heater
Capacity - up to 2 litres
Easy to clean
Technical parameters:
Model PREMIUM
Product Status New
Fountain material Stainless steel
Base material Powder coated steel
Maximum heater power 65 W
Maximum heater and motor power 80 W
Temperature range Up to 90 ° C
Duty cycle 1-4 h
Total capacity 2 kg
Noise 40 dB
Number of floors 3
Anti-slip feet Yes
Brush included No.
Overheat protection system Yes
Dimensions (LxWxH) 22.80 x 22.80 x 54.00 cm
Weight 2 kg
Shipping weight 2.5 kg
Package contents:
Chocolate fountain
Manual
More Information

| | |
| --- | --- |
| Weight | 2.0000 |
| Instruction manual | Yes |
| Dimensions - height (cm) | 54 |
| Dimensions - width (cm) | 22.8 |
| Dimensions - lenght (cm) | 22.8 |
| Box size - height (cm) | 36 |
| Box size - width (cm) | 27 |
| Box size - lenght (cm) | 37 |
| Capacity (kg) | 2 |
| Wattage (W) | 60 |
| Voltage (V) | 230 |
| Usage | 1-4 |
| Heating type | Spiral 80W |
| Giftbox | Yes |
Note: Technical specifications are subject to change without notice. The images are for reference only.